Cloud 9 are the specialists in Hang Gliding, Paragliding and Paramotoring in the South West (Cornwall Devon Somerset Dorset & Avon) and attracts students from all over the country.
For those wanting to learn to Hang Gliding, Paragliding or Paramotoring the school offers what is probably the easiest and quickest solution in the UK with a track record to back it up. Providing high quality instruction, our aim is to get you flying in the sport both safely and quickly along with supplying the best Hang Glding, Paragliding and Paramotoring equipment available.

Based in Cornwall on the North Cornish coast, with our own private tow site, we also have access to superb hill training sites within close proximity enabling us to make the most of the weather. With the added advantage of generally better weather than the rest of the country, stunning local beaches and amazing views it is an ideal place to learn to Hang Glide, Paraglide or Paramotor and have a holiday.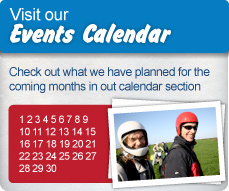 Training Courses
Full Hang gliding and paragliding training

Taster Days
Try a single day to see what its like

Tandem Experience
The perfect gift for another or you!
What's On / News
May 15, 2015, 7:29pm
Soaring Saturday
saturday is looking good for some hill soaring, probably on Hangies but you never know. We will be out on the hill so call if you want in as it looks good for Tandems as well. Out this evening (Friday) but you can leave a message or call early in the morning (any time from 07.00) and we will try and fit you in. Sunday may show some possibility but with the wind backing may not be ideal for first soaring flights, will update Saturday evening. week ahead looks a bit breezy to start with but calming off as it goes on
April 13, 2015, 5:29am
Week of Sunshine ??
Well it looks like a nice week weather wise and you could get a sun tan as well! Tuesday and Wednesday both look like good days for towing and we will be doing taster days on Tuesday so call if you want in . Thursday may well see us on the hill at Carbis and whilst not ideal for first HG hill flights at present is ideal for some Tandem flying, just let us know. Make the most of it :)
April 10, 2015, 6:24pm
Weekend ahead and more
Saturday looks like it could we'll be a fun day for for Tandems on the hill, probably more like a Hangy day certainly in the morning and may drop off as the day goes on but also the wind will back so it depends which comes first! call if you want in. Sunday a bit breezy again I think and similar that it may drop off as day goes on but more to the SW. Monday looks like a day on the hill at Vault but you know what Vault can be like so don't hold your breath nd the Tuesday and Wednesday could see some tow training. All a bit may and could but that is life :) call if you want in.
April 3, 2015, 7:25am
Banking on a holiday weekend :)
Easter bank Holiday is here and has started with a windy Friday, a bit too windy! Saturday see's it drop little so we are hoping for some hill soaring and tandems so call if you want in. Sunday is a Day Off (it's my birthday) but looks like a moderate easterly :( Monday is showing signs of a light breeze so probably in the tow field unless things pick up then it will be off to the hill for some soaring. Let us know if you want in so we can plan as it may well be a busy period.