Cloud 9 are the specialists in Hang Gliding, Paragliding and Paramotoring in the South West (Cornwall Devon Somerset Dorset & Avon) and attracts students from all over the country.
For those wanting to learn to Hang Gliding, Paragliding or Paramotoring the school offers what is probably the easiest and quickest solution in the UK with a track record to back it up. Providing high quality instruction, our aim is to get you flying in the sport both safely and quickly along with supplying the best Hang Glding, Paragliding and Paramotoring equipment available.

Based in Cornwall on the North Cornish coast, with our own private tow site, we also have access to superb hill training sites within close proximity enabling us to make the most of the weather. With the added advantage of generally better weather than the rest of the country, stunning local beaches and amazing views it is an ideal place to learn to Hang Glide, Paraglide or Paramotor and have a holiday.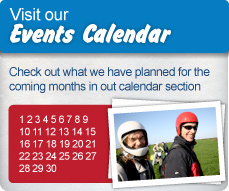 Training Courses
Full Hang gliding and paragliding training

Taster Days
Try a single day to see what its like

Tandem Experience
The perfect gift for another or you!
What's On / News
April 18, 2014, 8:48am
Bank Holiday weekend
Friday and we are heading to the field in the light forecast breezes and are now fully booked :) saturday looks like fresh easterlies so no good for flying but could be good for surfing on the north coast ....... Sunday fresh Northerlies and the possibility of some Tandem Hang Gliding around mid day. Monday still a fair way off so we shall see. We are booked up for Friday 25th, Saturday 26th and quite possibly Sunday 27th due to a wedding then please check the diary after that as we are away the for the BOS the following weekend.
April 17, 2014, 7:56am
Thursday. a bit of both ??
Light winds forecast through till early afternoon then filling in a little. So the plan is to head to the tow field and finish off some taster days and refreshers then if the wind does as says head to the hill later for hill conversions. So give us a call if you want to join in. Friday could go the other way with hill work first then towing later!
April 13, 2014, 6:45am
All change Sunday
Sop we wake to a different forecast and reports from the live weather stations show it breezier than forecast yesterday already. So we are heading to Sennen Cove for hopefully some hill conversions and tandems , call if you want in. Monday still looks like it should be a tow day whilst Tuesday / wednesday look breezy but whip knows with the way things go! Well done to the guys and Gals yesterday and thank you to those picking up their new wings for not messing up the weather :))
April 11, 2014, 7:24am
Weekend is coming .....
Friday looks like a light / moderate northerly so a hill day but nothing planned for students as St Agnes is less than ideal for them but maybe we can get some tandems in. Saturday is shaping up to be "the day" with a nice sharable WNW breeze so Perran is likely to be the venue for hill conversions and tandems, could be an early start. Sunday and the wind eases back so probably the tow field as is Monday . tuesday / wednesday are a long way away but may well see more hill conversion / Tandem days. Let us know what you are up for and keep in touch :))